This page provides an initial set of resources including lessons, worksheets, and answers across levels 4, 5 and 6. 
We have also curated a list of freely available, high quality datasets that can be used in the classroom. 
Assessment Guidance
Read our blog post on Assessment in the NPA Data Science.
About the Qualification
The National Progression Award (NPA) in Data Science is one of the first data science school level qualifications in the world.
The Data Science qualification is available at levels 4, 5 and 6 (equivalent to the traditional National 4, National 5 and Higher level qualifications).
The diagram below offers an indication of the structure of each level of the NPA. There are two core units at all levels: Data Citizenship and Data Science.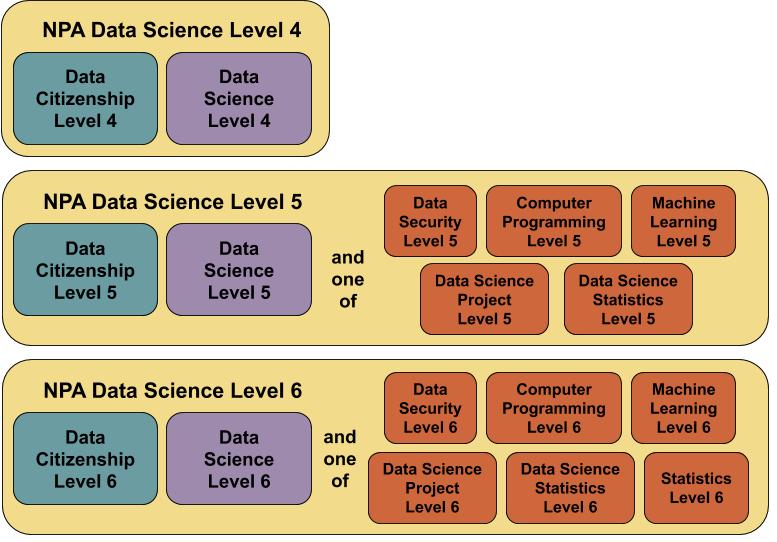 What's in the course?
During the course, learners will gather data and analyse datasets. They will visualise the results and present their findings, reporting on what they have found and how it can make a difference to themselves or others.
Participants will develop an understanding of how data is used in society.  Learners will interpret data in different formats to find out interesting things from it, investigate the reason for unusual results or trends, and think about the impact or behaviour change that will result from the analysis. Learners investigate how data can have both a positive and negative effect on society, such as when biased data is used in decision making or when data is misrepresented to influence people.
Introductory video about the NPA Data Science (11 min)
Webinar to Educators about the NPA qualification and the new Guides (58 min)
More Information
The Data Education in Schools Team are developing a range of classroom resources to support teaching. They have supported all the schools offering the qualification so far, with information, advice, networking and early access to resources.  Please contact dataschools@ed.ac.uk if you would like more information.
We are building a collaborative community of educators delivering the NPA and to share ideas and experiences between each other. This community is already in place so if you would like to join please get in touch with 
dataschools@ed.ac.uk