The Data Education in Schools team and the SQA have developed the National Progression Award (NPA) in Data Science.  National Progression Awards develop and assess a defined set of skills and knowledge in specialist vocational areas. The NPA in Data Science is one of the first data science school level qualification in the world.  Details of the qualification.
NPAs are offered at SCQF Levels 2-6 and are delivered in partnership between schools, colleges and employers. The Data Science NPA is available at levels 4, 5 and 6, equivalent to the traditional National 4, National 5 and Higher level qualifications.
The diagram below offers an indication of the structure of each level of the NPA (download Word alternative). There are two core units at all levels: Data Citizenship and Data Science.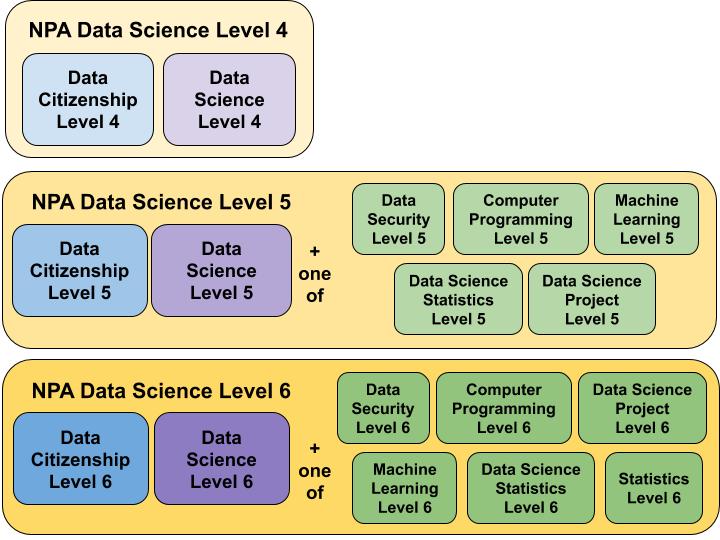 Data Science
This core unit will involve learners gathering data then analysing the dataset. They will visualise the results and present their findings, reporting on what they have found and how it can make a difference to themselves or others.
The data science module has 3 outcomes.
Tools and techniques of data science​​
Methods of data analysis​​
Analyse a dataset to identify patterns and trends​
Data Citizenship
Participants will develop an understanding of how data is used in society. The unit focuses the skills of data literacy and basic statistics. Learners will interpret data in different formats to find out interesting things from it, investigate the reason for unusual results or trends, and think about the impact or behaviour change that will result from the analysis. Learners investigate how data can have both a positive and negative effect on society, such as when biased data is used in decision making or when data is misrepresented to influence people.
The data citizenship module has 3 outcomes
Use of data in society​ ​
Data literacy concepts​​
Interpret data​
Optional Units
There are a number of optional units available at Levels 5 and 6. These include Programming, Data Security, Data Science Statistics, Machine Learning and a Data Science Project.
Further details are available in slideshare below (download Word alternative).
Assessment
The course assessment uses a mix of practical and knowledge based assessments. Participants will undertake project based assessments using pre-defined datasets.
Structure
The mandatory modules can be taught separately, however there is an ovelap in some of the content that can also allow them to be taught in parallel.
A suggested structure for teaching the NPA in Data Science is included below, presented in the suggested teaching order and detailing the number of lessons in brackets (38 in total). These topics support the achievement of the outcomes in each of the mandatory modules.
What is data? e.g. the growth of data, examples and use (2)
Interpreting data. e.g. interpreting graphical information, chart types, good/bad graphs (3)
What is data science? e.g. growth of data science, terminology, examples of model use (2)
Data types and formats. e.g. content includes data types, structure of data, open data (2)
Capturing data. e.g. digital capture, survey design and capture (3)
Data security. e.g. personal data security, dataset security (4)
Data privacy. e.g. ownership and GDPR, personal data rights and access (2)
Data manipulation. e.g. manipulation and aggregation, tidy data, joining and merging, reshaping (5)
Analysis and statistics. e.g. summarising, distributions, samples and populations, insight extraction (5)
Ethics and bias. e.g. bias, ethical frameworks (5)
Data cleansing. e.g. missing data, outliers, strategies for resolution (1)
Data quality and management. e.g. metadata, reference data, data dictionaries (1)
Visualising data. e.g. chart production, dashboards, reporting and metrics (3)
Communication and storytelling. e.g. communication of insights and visual information (1)
Analysis purpose, and lifecycle. e.g. analysis project lifecycle, problem framing (1)
Tools
More Information
The Data Education for Schools Team in partnership with Effini are developing a NPA Teachers Guide. The guide will be published in late 2021, however we can offer early access to educators currently teaching the NPA. Please contact dataschools@ed.ac.uk if you would like more information.
The project is also developing a range of classroom resources to support teaching. These will be listed on our 
Resources Page
.
We are building a collaborative community of educators delivering the NPA and to share ideas and experiences between each other. This community is already in place so if you would like to join please get in touch with 
dataschools@ed.ed.ac.uk