One of the most common questions we get asked about the new National Progression Award (NPA) in Data Science is what software or programming languages will schools need to run the course.
The NPA has been designed to provide a great deal of flexibility in the software tools that can be used by learners for data gathering, analysis and visualisation.  It was very important that every outcome could be achieved using a selection of different tools that are free (or free for educational use) or open source.  It was also important that there were a range of tools that could be installed as well as a selection of online tools available.
In addition, the NPA can be achieved using only a basic spreadsheet tool, such as Microsoft Excel or Google Sheets.  It is important that learners gain a secure grounding in their knowledge of data science and statistical concepts.  Gaining experience of particular tools or programming language that might be favoured by industry is much less important to learners at this stage of their career.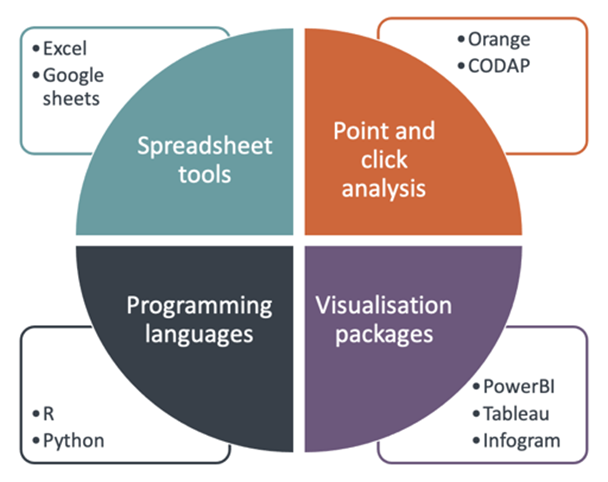 Although it is not a requirement, Level 6 learners would benefit from carrying out data analysis and visualisation tasks using a programming language.  This would give them an understanding of data science techniques using code and will be a better level of complexity.  Level 6 can be taught using any of the tools though, and it is understood that using a programming language would be particularly challenging when teaching a multi-level class.
You can read more about the different tool and language options in the Educators Guide to the NPA (pages 18-20)